$12.50 Cocktails!
Join us between 7:00-9:00pm for our daily cocktail hour
when the price of selected classic cocktails drops to just $12.50.
Selected cocktails include:
Dragon Fly
Vodka, orange, passionfruit, lime, apple
Prima Ballerina
Vodka, blueberry, black raspberry, lemon, wonderfoam
Dream Weaver
Gin, elderflower, orange & lemon
Smooth Talker
Bailey's, dark chocolate, coffee, dairy
Love in Box
Whiskey, bubblegum syrup, lemon wonderfoam
Zuzu's Petal
Rosé, pink gin, rose syrup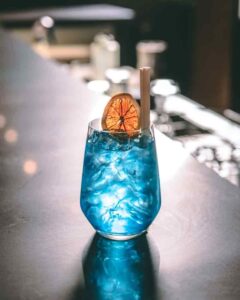 Discover more about Skylark and explore our enticing food and drink menu here.